Forced into inactivity or silence for many months, dampened by false hopes of recovery and reeling from chaotic schedules, music professionals are treading cautiously on the path to reopening. And they are learning from the crisis.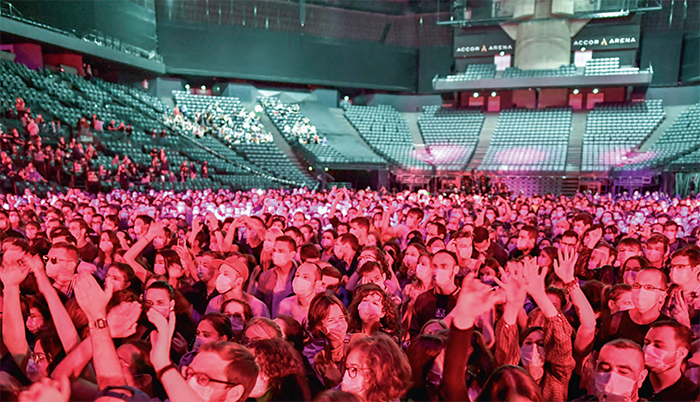 When Les Eurockéennes de Belfort festival decided to throw in the towel despite promises of gradually reopening cultural venues, it was because it needed to "defend its spirit to keep its soul", explains director Jean-Paul Roland. Seated and socially distanced (4m² per person), "spectators become Playmobil figures arranged on the stands".
So, after months of lockdowns, curfews and all kinds of public health restrictions, resuming activity is not exactly the celebration we had hoped for: "Collectively, everyone is aiming to return to normality this autumn," explains Olivier Poubelle, owner of several Parisian venues (the Bouffes du Nord, the Théâtre de l'Athénée, the Maroquinerie) and the show production company Asterios. With a lot of unsurety. We're used to reading the health data figures on a daily basis. We're not out of the woods yet." Asterios will be putting on around one hundred summer concerts, featuring artists such as Maxime Le Forestier, Prudence and Feu! Chatterton. But the Maroquinerie (500-capacity venue) must wait. Olivier Poubelle had a go twice last autumn, but with only 35% capacity, "without the bar or the restaurant, it was depressing".
United in the fog
Everyone together... in the fog: this is the cautious refrain of early summer 2021, which feels a bit like a catch-up session. For example, take Room With a View, a show created by the musician Rone and (La)Horde in collaboration with the Marseille National Ballet. Deprived of their premiere at the Théâtre du Châtelet in Paris due to the reduced 35% capacity limit, which would make it financially unviable, the show was saved by Les Nuits de Fourvière in Lyon and was "readapted with the agreement of the artists, with lower stage costs", explains Dominique Delorme, director of the festival, which is an open-air festival held in the heart of the Gallo-Roman site on Fourvière Hill. Taking a more cautious approach, the Lyon festival has chosen to streamline its budget (13 million euros in 2019, 8.5 million this year). "For the time being, we're not bankrupt, and we've developed a 2021 programme by downsizing, all the while without jeopardising 2022. The duration, multidisciplinary aspect and creativity have all been preserved," says Dominique-Delorme. As for the public's appetite, it has remained strong: "We sold twenty-seven thousand tickets in six hours on the day the ticket office went live, on 4 May". This trend was also seen at the Philharmonie de Paris, where season tickets for the 2021-2022 season soared, according to its director, Laurent Bayle.
But not everyone is in the same boat. In October 2020, artist Laurent Garnier published an open letter to Roselyne Bachelot on his website. In the letter, the DJ highlighted a lack of consideration for the clubbing sector, which employs, "apart from the artists and DJs who perform there, the same diverse range of staff as in the rest of the arts scene... ". As of early July, nothing has changed. The clubs and discotheques, which depend on the Ministry of Home Affaira and therefore fall outside of the scope of the Ministry of Culture, have remained closed, even though they were the places where a sense of national pride, the "French touch" was created, by the likes of Daft Punk, Air, David Guetta and Laurent Garnier.
Absurd situations
Bertrand Burgalat – musician, author, composer, singer, owner of the Tricatel label and president of the National Union of Phonographic Publishing (Snep) – has tried to "avoid categorical points of view. What happens to music is never an exception, but a social phenomenon. We have witnessed absurd situations, such as being able to travel on overcrowded trains, while the culture sector was closed. First of all, bookshops, for example, achieved some negative equity by succeeding in closing down the culture aisles of supermarkets. This leads me to restate that in this business ecosystem, there needs to be solidarity between the principal industries. Artists cannot be seen as ungrateful beneficiaries of exceptional measures, nor can they engage in competitive victimhood". To say that the music industry has withstood the crisis would be to only take into account sales figures.
Take the example of hip-hop, explains journalist Olivier Cachin. "The virus has no effect on streaming, and 95% of rap music is now played this way. Everything is going well, but at the same time, hip-hop has developed a number of alternative networks which have become completely prohibited right now: Shisha bars, clubs, these are sometimes informal economies that generate reativity, profit and notoriety. »
It is impossible to divide by sector, as also stated by the independent press officers, who act as essential cogs in the wheel of bringing an artist to light, and who founded the Apres union (Attaché.e.s de presse, réseau d'entraide et syndicat) in late 2020. "We have been hit by the knock-on effects that festival cancellations and label budget cuts cause," explains Cécile Legros (Printemps de Bourges, Victoires de la musique).
The music industry has thus mobilised itself in "solidarity", according to Olivier Poubelle. "The venues, especially the SMAC (contemporary music stages), have played a supportive role, without any financial changes, without changing their behaviour towards our artists." The same view is expressed by Jean-Paul Roland: "We've been in this mess together. We've had support, politicians have stepped up to the plate, national sectoral aid has softened the blow, and our public subsidies and sponsorship have been maintained. But if, in 2022, we're still restricted, we'll have to change jobs".
Recovery will be long
A medal is unanimously awarded to the National Music Centre (CNM). Established on1 January 2020, with unexpected additional funding due to the crisis, the organisation experienced its first taste of fire at the start of the pandemic. Partial unemployment, an "année blanche" (tax relief) for temporary workers are measures that have worked. But for how long? On their side, Sacem set up emergency aid for its members very quickly (see MagSacem #107 page 14, in French). They also launched, in May 2020, alongside their partners, the #ScèneFrançaise initiative to offer support to artists and creative professionals, followed by the #RebranchonsLaCulture (#ReconnectingCulture) campaign unveiled in March 2021.
Without a stage, music has never relied so much on image: clips, concerts, sessions filmed privately, etc., with the result that the economy has deteriorated despite a specific exceptional remuneration for livestreams set up by Sacem. The stage must reassert its relevance, believes Olivier Poubelle: "What's currently happening is drastic. An entire form of education on how to co-exist was put on hold for a year and a half. My favourite thing about hip-hop is its audience. When I see young people in the audience who know an hour and a half of lyrics off by heart, when I see this cultural diversity, that is what gives me confidence for the future," says the man who was in the front row during the 2015 Bataclan terrorist attack, where he was was working as co-director.
Recovery is going to take a long time, and to escape this Groundhog Day scenario "we have to turn to science," says Jean-Paul Roland, an early advocate for the health pass, as a possible buffer to social distancing. Belatedly, France organised test concerts in Paris on 29 May, and in Montpellier on 5 and 6 June.
Another test was also planned for 26 June in two Parisian nightclubs.
So, what are we waiting for to be happy again? It's urgent. In terms of health and the economy, of course, but also from an artistic point of view. Creators "have been affected and remain anxious about taking a step backwards," explains Olivier Calmel, winner of the Sacem Grand Prize for Contemporary Classical Music in 2020. The composer is back on the road with the Double Celli string quartet. "You know, as a pianist and improviser, I feel worried. When we played together again, we had all this energy, but we didn't know each other anymore and we'd lost that all-important resonance between musicians." »
Overbooked programming schedules
Olivier Calmel has not noticed a drop in the number of commissions. He has just completed a Râmayâna for the Orchestre de l'Opéra de Massy, to be premiered in 2022. "But we know that some commissions, which have been completed and paid for, will never be performed because of a lack of space in the programming schedule." What is shaping up for the next few months is a huge traffic jam. Postponed dates, shortened tours, delayed albums, which are now being released and will have to be promoted on stage: venue managers, who have often maintained artist residencies during the closure, are busy putting together and pulling apart programming schedules for 2022, 2023, etc.
The first to be affected were emerging artists, like Aloïse Sauvage, 28, who was forced to return home in March 2020, just at the moment a promising career was starting. On the other hand, the successive lockdowns have at times allowed us to "settle down" and create new material. For Olivier Calmel, "a monograph with four orchestras and two hundred and fifty musicians is a feat". For the singer-songwriter Tété, a series of covers of Queen, Dylan, the Beatles, etc., published online in an interactive format, resulted in a "collaborative" album supported by a crowdfunding campaign, and part of the proceeds were donated to the hospital group AP-HP". Optimist Michaël Canitrot, DJ and founder of the Monumental Tour, which combines electronic music and heritage sites (Château de Vincennes in 2020, and virtually, Mont-Saint-Michel for the 2021 Heritage Days), welcomes "the emergence of new musical forms, that are further away from the dance floor, and increasingly oriented towards travel, the experiential and cinema. So, we found some happiness in this period of uncertainty. And I think that young people are really raring to go, with so much energy, that we're going to experience the 'roaring twenties' in the next five years. We'll have to pass a milestone, and audiences will help us to do that. Formats will change, especially due to the worsening environmental situation, which Covid-19 has highlighted."
Environmentalism did indeed play a role in music during the pandemic politically, as was the case at the Nuits de Fourvière, which were financed primarily by the Metropole of Lyon and overseen by the mayor Bruno Bernard. Elected politicians "rightly have a number of aims – gender equality, eco-responsibility, focusing attention on local stakeholders, creating pathways for new talent," explains Dominique Delorme. The sponsors have followed suit, according to Jean-Paul Roland. "In two years, brands have learned to do without festivals, refocusing their budgets as society has evolved. The attitude is now more health-conscious, more concerned with carbon footprints and more critical of large-scale, unrestricted gatherings." »
To combine the planet and freedom, rapper Georgio, 28, organised sessions entitled "Elsewhere", allowing him to create his fourth album, Sacré, which was released in May, and to escape "this lockdown that is generating immense social misery and which, from a collective point of view, is awful". At the end of 2020, Georgio embarked on a journey around a number of stunning natural sites: the dunes of Lampaul-Ploudalmézeau in Brittany with Victor Solf (from the duo Her), the Belvédère du Revard, near Chambéry, with Tsew The Kid, etc. He made video clips of his trips. "Acoustic music and examples that demonstrate how we treat the planet", in response to leaders who are "so out of touch that they've sacrificed entire sectors", such as culture, which brings us together.
Véronique Mortaigne
---
Culture sectors in Europe weakened by the crisis
Collection of royalties has fallen by 35%, with a weaker forecast for 2021-2022.
As a result of the pandemic, the culture and creative sectors (CCI) have lost 31% of their turnover (-199 billion euros, -28.5 billion in France). Live performances (-90% in 2020 compared to 2019) and music (-25%) were the most affected. Collection of royalties has fallen by 35%, with a weaker forecast for 2021-2022.
Sacem and Gesac (a group of thirty-two European authors' societies, currently chaired by Jean-Noël Tronc) have taken up the issue with the European Commission as part of the "Rebuilding Europe" initiative. At the end of January, they presented a study conducted by Ernst and Young (EY) measuring the effects of the Covid-19 crisis on the sector. The authors of the EY study propose that 2% of the European recovery plan (750 billion euros) should be allocated to culture (around 15 billion euros).
During a full day of talks after this study was released between Jean-Noël Tronc, the Vice-Presidents of the European Commission, and several Commissioners, Sacem advocated for a European strategy that addresses the reopening of culture.
Published July 16 2021