Find out more about the EU copyright directive that will be voted by MEPs on September 12.
COPYRIGHT DIRECTIVE: WHAT IS IT?
Two years ago, the European Commission prepared a draft directive "on copyright in the single European market". This legislation aims to reconcile digital copyright laws throughout the European Union.
Under this Directive, creative content on the Internet will flourish while those who create it will be fairly compensated.
WHY IS A NEW TEXT ON COPYRIGHT REQUIRED?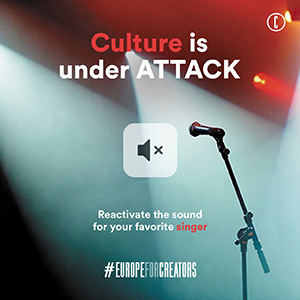 Updating the way copyright is applied on the Internet has never been more critical.
Copyright is still governed by regulations implemented in June 2000 and June 2001 (The E-Commerce Directive 2000/31 / EC and the INFOSOC Directive 2001/29 / EC). The challenge is that these laws are woefully outdated and the platforms most used by citizens – Facebook and YouTube - did not even exist when this law was written.
The way people share content on the internet has changed dramatically. The existing legal framework does not address current digital challenges raised by user uploaded content platforms.
WHY IS THIS COPYRIGHT DIRECTIVE IMPORTANT? (Web designer charts)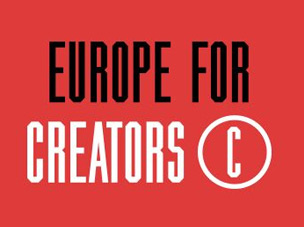 The power wielded by Internet companies has grown significantly since 2000, and yet, their digital platforms largely depend on content posted by users.
Charts:
1- Value: Alphabet, (the group that owns Google and YouTube) $ 837.09 billion and Facebook $ 505.81 billion.
2- Revenues Collected through online advertising according to eMarketer in 2018: Google $ 40 billion. Facebook $ 21 billion.
3- Payments made to content creators: estimation YouTube $ 2 billion between 2007 and 2017 an average of $ 0.2 billion per year, or just 10 percent of revenues.
4- Comparison between advertising revenues and payments.
5- 60% of the videos viewed on YouTube are music videos
The new Copyright Directive must provide Europe with the means to enable more fairness in a sector where tech giants rake in billions in ad revenues thanks to the creative content they use. This is a question of ensuring that the revenues generated on these platforms--thanks to the work of artists and digital creators--are fairly distributed to them.
WHAT ARE THE CHANGES PROPOSED IN THE NEW COPYRIGHT DIRECTIVE?
Today, platforms like YouTube and Dailymotion are "passive;" or mere hosts for content under European Law. They claim to only store creative content, such as songs, videos, photos uploaded by users, and therefore should not be held responsible for what they provide access to.
However, this "passivity" is a myth. By collecting personal data and deploying algorithms that strategically promote certain posts over others, these platforms very "actively" maximise revenues.
The new Copyright Directive aims to make sure creators get paid for the content these platforms benefit from and to ensure that they respect the freedom of European content creators to choose when their work is used.
For instance, if a musician wants to be paid for the usage of their work, services like Facebook or YouTube should respect that request. Imagine spending two years recording an album. Two years of your time, energy and creativity. And now imagine hearing that very music being used in videos you have no connection with, without your consent and with no compensation? This happens every day.
The Copyright Directive guarantees that all creators in Europe have the opportunity to earn a decent living and don't see their work only benefit large companies that pocket all the revenues. This measure will mainly benefit young talents who are working to expand their audience and earn a living from their works. It is a way to fairly give back to creators of any content in Europe: photographers, directors, musicians, actors, etc.
I AM AN AMATEUR WEB USER, AND I SOMETIMES USE PHOTOS OR PIECES OF MUSIC I FIND ON THE INTERNET. WHAT WILL THE COPYRIGHT DIRECTIVE CHANGE FOR ME? WHAT CAN I DO?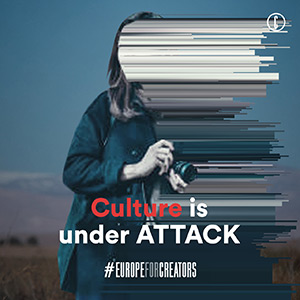 - Before the Copyright Directive
Right now, before adoption, you risk being prosecuted for infringement. In practice, the platforms on which you upload your videos are under the obligation to remove them or they are liable after being notified by the rights holders concerned.
- After the adoption of the Copyright Directive
After adoption, and in the event that the platforms have negotiated agreements with the rights holders, these licenses will legalise posting content on those platforms: they'll negotiate for all they content they host, whether it is posted by them or by users. If you upload content for non-professional use, it means you'll finally have a real certainty that what you do is legal.
RIGHTS HOLDERS HAVE ALREADY REACHED AGREEMENTS WITH INTERNET PLATFORMS SUCH AS YOUTUBE IN ORDER TO REMUNERATE CREATORS AND ARTISTS FOR THE USE OF THEIR WORKS PUT ONLINE. IN WHAT WAY WILL THE COPYRIGHT DIRECTIVE CHANGE THINGS?
- Before the Copyright Directive
These agreements solely depend on the "goodwill" of the platforms. In this context, they are not subject to any obligation of transparency regarding the resources generated by the exploitation of the works of creators they host.
- After the adoption of the Copyright Directive
The new text creates an obligation for these platforms to negotiate agreements with rights holders. As part of this new obligation, platforms will need to be transparent and fairly compensate creators.
ARE THERE MAJOR DIFFERENCES IN COPYRIGHT MANAGEMENT BETWEEN THE 28 MEMBER STATES OF THE EUROPEAN UNION? WHAT WILL THE COPYRIGHT DIRECTIVE CHANGE?
Copyright has been the subject of extensive European regulation for more than 25 years. The new Directive will clarify and harmonise the status of platforms such as YouTube, Soundcloud or Facebook that make protected content uploaded by their users available.
Published August 31 2018