#CreatorsforUkraine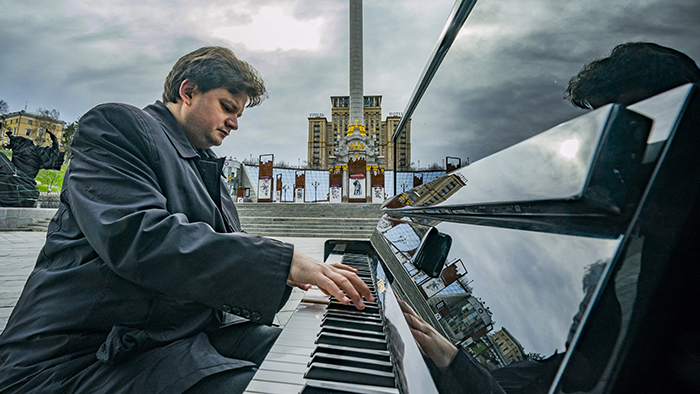 © Celestino Arce - AFP
The Russian invasion of Ukraine is also synonymous with the destruction of cultural heritage: many cultural institutions have been forced to close their doors, while others are destroyed or damaged by the war. Every day, artists flee their country, and culture is dying. Faced with this situation, not seen in Europe for decades, the world of culture is organising and mobilising to defend the freedom to create, the freedom of a nation.
Immediacy confronts urgency
This conflict has global consequences; it has left the world shaken and incredulous, changing it forever. More than 5.4 million people have left their country to flee the war. Among them, creators and cultural actors, prevented from exercising their profession and developing their artistic projects.
Every day, many have to find shelter to protect themselves and escape the worst. While some have donned military fatigues for the first time and traded their musical instruments for weapons to defend their freedom, others are still looking for refuge and safety for themselves and their families.
This is the case for Liudmyla Tsymbal, Director of Licensing and International Affairs at UACRR, the society responsible for collecting authors' rights in Ukraine. She fled the war and the bombings, finding refuge in Poland with the help of ZAiKS, the Polish authors and composers society.
With Sacem's support, ZAiKS has played a leading role in humanitarian aid efforts to help the Ukrainian population. In addition to providing Ukrainian creators with shelter in its Houses of Creative Work, it has set up a fundraising campaign to provide financial support to the creative community in Ukraine.
"The minute Russia attacked Ukrainian territory, we knew it was our duty to provide immediate assistance!
"In a short period of time, we were able to raise more than €1.2 million, thanks to the collective action of the authors' societies, which have been relayed within CISAC. This amount continues to grow" said Miłosz Bembinow, Vice President of ZAiKS, who has been deeply affected by the situation.
Funds are being raised to meet various needs: to pay compensation to Ukrainian creators and their families; to enable the reception of refugees in dedicated centres; to distribute medical supplies and food; to create scholarships and sponsorships for educational and artistic organisations that support creators and art students.
"The support of the international community of authors' societies is playing a very important role. Together we are stronger," said Liudmyla Tsymbal. "We are deeply thankful to ZAiKS for their support. The world must not get used to our grief. We must stand together until we win," she continued.
In this horrific context, the UACRR refuses to see its artists die and their works deteriorate day after day. It continues to work from a distance to carry out its missions as well as possible. "It is crucial to help Ukrainian creators in this tragic time, we must protect our culture and identity! Most of the team has stayed in Ukraine and is working in terrible conditions. Without their presence on the ground, we wouldn't be able to do all this," said Liudmyla Tsymbal.
But it is often in the darkest moments that beautiful unions are strengthened, giving full meaning to collegial solidarity. From the first days of the Russian invasion, the world has been united in its support for Ukrainians. States are imposing sanctions on Russia. Everyone is pitching in where they can: Associations and NGOs are campaigning and raising awareness, companies from all horizons are taking action, authors' societies are mobilising, and citizens of the world are expressing themselves on social networks. The world is uniting to help the Ukrainian people, up close or from a distance.
Sacem has redoubled exchanges with its network of authors' societies to provide concrete support to Ukrainian creators and publishers. It has actively mobilised with Cisac, the International Confederation of Societies of Authors and Composers, of which it is a member, by joining in solidarity and support initiatives.
Measures to support creators in any way possible
On March 9, Cisac launched a global initiative called Creators for Ukraine. Its aim is to support creators and refugees, promote Ukrainian culture, and ensure the continued operation of Ukrainian authors' societies. With backing from GESAC (the European Grouping of Societies of Authors and Composers), CIAM (the International Council of Music Creators) and W&DW (Writers & Directors Worldwide), this campaign has been rolled out in close cooperation with authors' societies from around the world.
In addition to fundraising, which is the first step of this initiative, Creators for Ukraine is leveraging the collective and unifying power of creators around the world and mobilising their support through the launch of an open letter from creators that has already gathered more than 4,000 signatories.
"We ask all creators everywhere to join us, sign this message and share it using the hashtag #creatorsforukraine. We call on Russia to cease its killing of innocent civilians, its destruction of towns and cities, its assault on freedom and democracy, its violation of human rights, and its attack on culture," the Cisac open letter states.
Songs for Ukraine is another project conceived and implemented by the Hungarian society Artisjus as part of the #CreatorsforUkraine initiative. The idea is to promote the works of Ukrainian creators on streaming platforms and audiovisual media in order to increase the flow of royalties to creators. Everyone is encouraged to share their favourite finds from Ukrainian culture on social networks with the hashtag #SongsForUkraine. It is a simple but essential initiative to keep the Ukrainian repertoire alive throughout the world.
"This initiative is very important for Ukrainian creators, who have seen their creative projects stopped, their album releases postponed or their concerts cancelled. This is simultaneously a powerful expression of moral support, a promotion of their music and a great financial boost," Liudmyla Tsymbal explained.
Cultural diversity and creative freedom are the beating hearts of democracy. "We are doing and will continue to do everything in our power to help Ukrainian creators. We will fight with them, until the end," Bembinow said.
This collective commitment by the authors' societies will last until the end of the conflict, which everyone hopes will be as soon as possible.
> Further reading: An interview with the composer Evgueni Galperine on the situation Ukrainian creators are facing.
Published May 19 2022