Sportswoman, supermodel, soul singer ... Nadia Mladjao, aka Imany, has constantly reinvented herself. The 39-year-old artist, who is expecting her second child, is taking a welcome break to re-inspire herself better.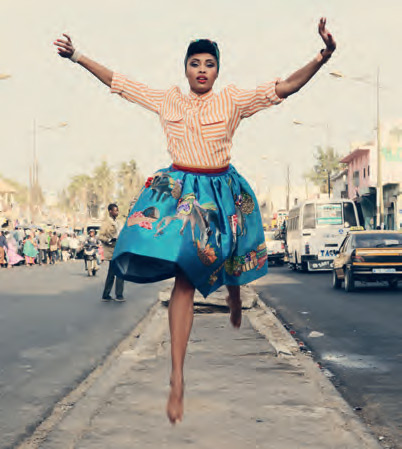 The first time, she beamed with joy and her hoarse tone, of incredible depth, we were hooked. It was in 2012, for the release of The Shape of a Broken Heart: a debut album steeped in folk, which exorcised her broken love and the tragic destiny of Africa. Four years later, we found Imany, equally radiant, on the stage of the Olympia. A consecration, for the former supermodel who was meant for a sports career. But this summer, boom bang! Tired from a global tour, the singer announced that it would be the last. "It's as if I ran in a tunnel for four years, confesses the person who just received the Sacem Grand Prize for Sacem repertoire abroad. After the soundtrack of Audrey Dana's Sous les jupes des filles (Under the skirts of girls), in 2014, I committed myself to doing my second album, the tour, not counting all the specials... In the meantime, I gave birth." Maternity, precisely... Nadia Mladjao, aka Imany, is pregnant again. But no more question of repeating the errors of the past: "On stage, I was communicating values of sharing, love and vitality of life, but I saw my son only twice a month. I had become a robot".
Such frankness is rare in the world of music... Feminist at heart, Imany insists with her point: "As a woman, we have no right to complain. We must smile, be reassuring, at the risk of appearing disagreeable, even cold. It's a heavy burden". Today, she says she is serene. "I don't want to go back to writing a new album. But I'm not afraid of being forgotten or making less money ... I came from an environment where there was nothing."
THE TASTE OF ELSEWHERE
Born in Martigues in 1979, Nadia Mladjao grew up in Istres, with her six brothers and sisters. "My parents met in the Comoros during the colonial era. When my father entered the Air Force, he was transferred to a base in France. My mother was the only survivor of her family. All my uncles and aunts died at birth, and she wanted to recreate her own tribe in France, she recalls. As we were a large family and air tickets were extremely expensive, we only went to the Comoros every five years." A dual culture that has given her a taste for something else.
At home, the atmosphere was loving, and the imagination of little Nadia wandered off into music. "Dad listened to records by Stevie Wonder and Michael Jackson. Mom was in love with French variety and Joe Dassin", says Imany. Since her childhood she felt the guilty desire to sing growing inside her. But at school, her low voice just earned her sneers from the boys. "They thought my voice was an anomaly. I hummed on the way to the bakery because it was the only place where nobody could hear me."
In secondary school, the teenager stood out in the high jump. Spotted by the coach of the France team, she began training at the National Institute of Sport (Insep). "It had never been a childhood dream, but I competed across France. It was my first access to the outside world", recalls the former sportswoman. Fate would decide otherwise. In her 17th year, a head-hunter spotted her sculptural beauty and asked her to become a model. A new universe opened up to Nadia, who settled in New York in 1999. She would stay there for seven years.
MUSICAL DECADE
From fashion week to fashion week, the top model was there on the podiums. But also disillusioned: "Every day, someone weighed us, measured us and decided whether we would parade or not... It was very tough". In order to escape, this devoted fan of Nina Simone and Tracy Chapman wrote songs. "In New York, I was told that my voice was sexy. It no longer sounded like an anomaly, but as a peculiarity." Then in 2007, weary of being considered "a clothes horse hanger" and aware that modelling "conveyed normative messages that did not serve the image of women well", Nadia arrived in Paris.
After having played the bars of the capital under the name of Imany, the apprentice musician caught the ear of Malick Ndiaye, producer of Ayo, during a concert at the Sentier des Halles. A decade later, the time has come to take stock: "I will always make music. There is nothing more rewarding than going on stage. We instantly receive the love of the public. Turning her back on them would be ungrateful. I have to find the balance between my life as a woman, a mother, and an artist. Militant, too". She has become a dogged ambassador for ENDOmind, an association fighting for the recognition of endometriosis and woman's pain. Because Imany has had a thousand lives, and we trust her to reinvent herself endlessly.
Published April 15 2019