Yesterday, today, tomorrow… Contractualising with digital players
SACEM has been collecting royalties from online music broadcasters since the late 1990s, when the first MP3 files and the ringtone market emerged. Since then we have contractualised licence agreements with all online music and audiovisual services such as Apple Music, Deezer, Spotify, YouTube and Netflix, which may cover up to 130 territories worldwide. We have a total of over 1,200 contracts in the online sector, including nearly 240 with download and streaming platforms, including video on demand (VOD).
Our strength at SACEM comes from the repertoire we manage and represent. The fact that we have signed partnerships with some international publishers is testimony to our appeal.
> SACEM has sought to keep up with the development of each new generation of Internet music services: our purpose is to promote the dissemination of our members' works; to do so, we strive to monitor, anticipate and understand the market.
A Big Data society… Managing billions of data, processing exponentially growing volumes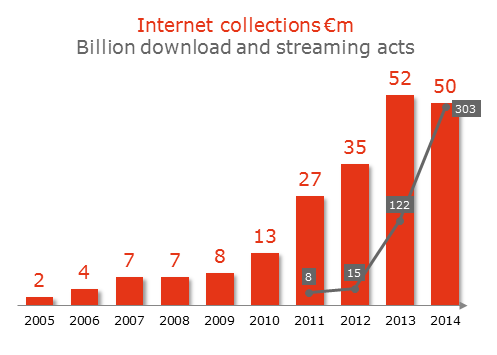 In 2014, SACEM processed over 3 billion usage data representing 303 billion acts (downloads, streaming, etc.) which generated 250 million royalty distribution lines to authors, composers and publishers. Every year, these figures grow exponentially.
We faced a flow of over 1.7 million new works in 2014. We manage the documentation of works through dynamic updating according to the extent of contribution and territories.


Cutting-edge technologies
To meet the challenge linked to the exponentially growing data, SACEM also draws on the new technologies for processing Big Data, like Cassandra and Elasticsearch, just like such digital champions as Facebook or Google.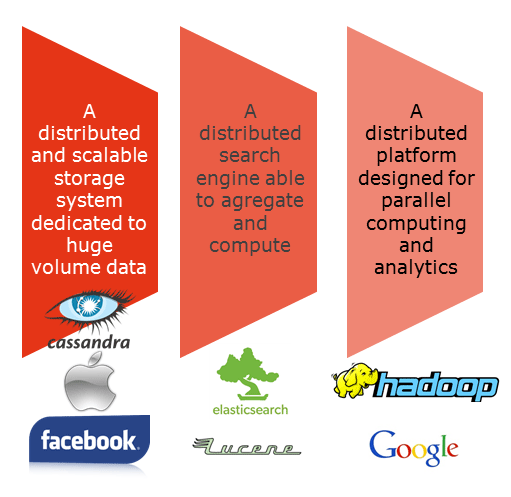 They will make it easy to process volumes of data that could grow 100-fold in the next few years.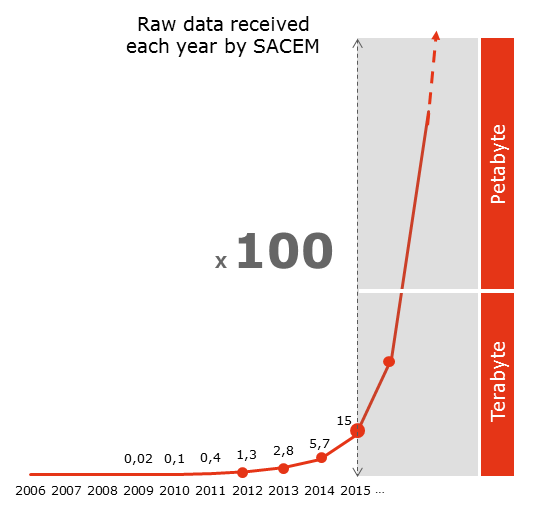 Ever more efficicient services

Since September 2015, SACEM has offered members a powerful tool for monitoring and analysing the distribution of their royalties, undertaken on a quarterly basis.

The new interactive distribution statement offers everyone a picture of their income, which is both general and specific: work by work, for all countries, by type of use and even by client (985 categories corresponding to 500,000 clients), and for all types of royalties generated, while also offering an accurate view of the documentation corresponding to the context of use of each exploited work.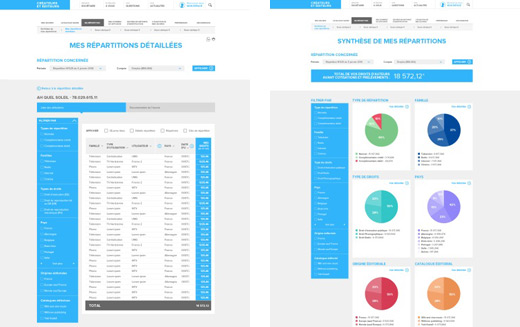 Armonia, Bmat… Joining forces in the service of global documentation
Although their volume may be skyrocketing, data are often incomplete. The quality of data remains a real challenge that SACEM is meeting by working with other authors' societies and Universal within Armonia. In this framework, a partnership was set up with Bmat to mutualise processing of online data.

A digital platform
Bmat centralises all declarations from different dissemination platforms, cleans them and enriches them with complementary data, e.g. international codes for sound recording and music works (ISRC, ISWC).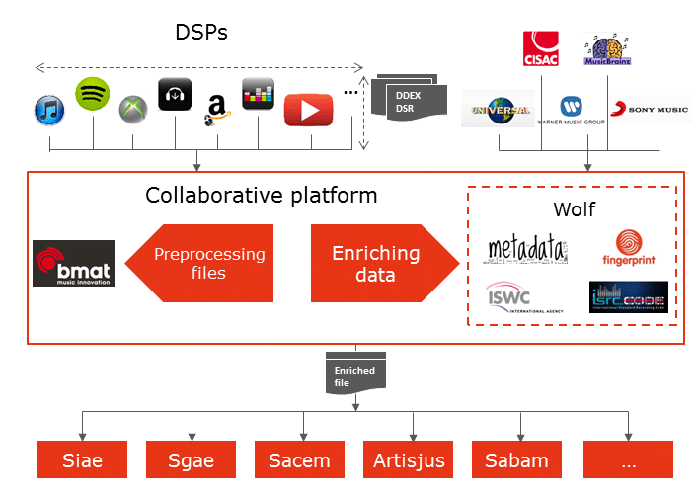 > Initial results:
+ 7% of sales lines identified automatically
60% of work initially identified as incomplete and identified differently by enrichment were finally fully documented
- 40% manual identification
> A test of UGC Platform (fingerprint technology):
At least 30% of this UGC Platform said to be non-musical actually contain music. It was thus possible to identify an additional 1 billion acts!
Data enrichment and enhancement: a priority
"Sacem is conducting research on processing of usage data on the rights the Society represents as well as on the development of smart identification processes and the analysis of metadata attached to works. Its purpose is to maximise acquisition of the value for our members of the exploitation of music. Consequently, Sacem is fostering innovative partnerships with research centres and technology firms." Christophe Waignier, Sacem Director of Resources and Strategy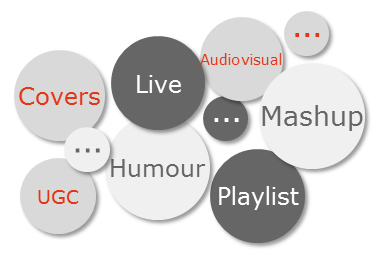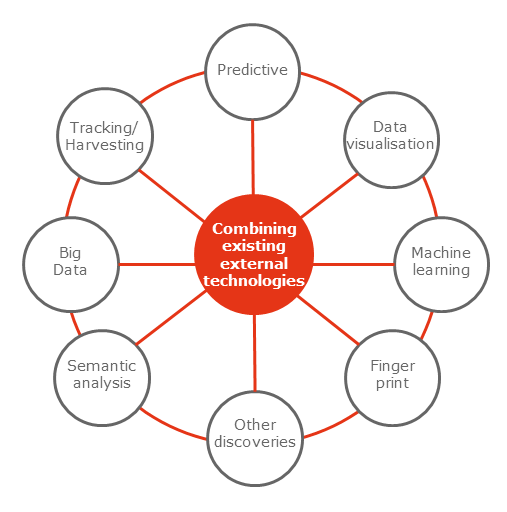 START-UPS, INNOVATORS
Contact our Innovation team at: innovation.team@sacem.fr
Published September 28 2015