2022: Sacem's springboard to the future.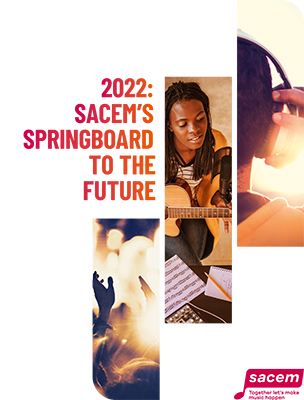 Sacem, today announced record-setting results for 2022, confirming its operational performance, the efficiency of its strategy of transformation and the creation of value linked to digital platforms. With the end of the Covid crisis, which saw Sacem's general royalty collections fall by nearly 350 million euros, 2022 was the year concerts and festivals returned, media advertising revenues recovered — particularly audiovisual — and, above all, the online sector continued its strong growth. Online now accounts for more than a third of Sacem's collected revenues for its members and creators and publishers represented through mandates.
CLOSER TO ITS MEMBERS, INNOVATIVE, INTERNATIONAL, SUCCESS-DRIVEN, AND SUPPORTIVE
In a rapidly changing environment, Sacem's model and missions are more effective and relevant than ever to support creation in all its diversity. Sacem is committed to generating ever more value for its members, maximising their revenues and guaranteeing them a high level of service and support.
Read the annual report
- PDF
- Flipbook
Published June 21 2023