In 2020, Sacem set up the exceptional supplementary distribution of royalties, specifically tailored to the broadcasting of livestreams in these difficult times. This exceptional royalty distribution , which remunerates the rights holders of the work performed, is now being extended until September 2021.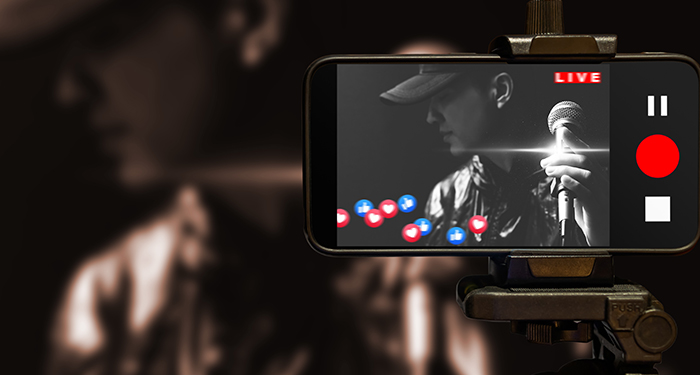 Faced with the cancellation of live shows due to the health crisis, many of you have invested in the Internet by offering concerts, DJ sets or sketches of your work, usually free of charge.
Collection of royalties
Sacem has agreements in place with most platforms for the use of its repertoire, and is therefore remunerated accordingly. This is especially true for YouTube, Facebook, Instagram and Twitch.
The specific royalty distribution is calculated using the sums collected from the platforms involved in remunerating livestreams.
Livestream identification
It must be a free, live, event-specific and one-off online broadcast of a concert, DJ set or sketch with the performer's presence on screen, intended for a public audience and generating a minimum of 1,000 views aggregated at the end of the period by Sacem. Declarations that do not comply with these conditions cannot be considered by Sacem.
The platforms' music recognition tools have not been developed to identify live performances that are not reported to Sacem.
To benefit from a royalty distribution, it is essential that you provide the following information:
Title of the livestream
Date of the livestream
List of works performed
Link to the livestream
Length of the livestream
Number of views
Name of the platform
This is possible in your member account.
You have already been able to declare your livestreams for broadcasts that took place between 15 March 2020 and 31 March 2021. You will now be able to make your declarations for broadcasts between 1 April and 30 September 2021.
Royalty distribution methodology
Analysis of the declarations made up to 31 August 2020 showed that 92% of the declared livestreams lasted more than 20 minutes. The renewal of the exceptional royalty distribution therefore applies to livestreams lasting at least 20 minutes.
Remuneration for livestreams of more than 20 minutes broadcast free of charge will always combine two elements: a minimum amount of €76 + an additional amount based on the number of views.
Summary of the distribution methods: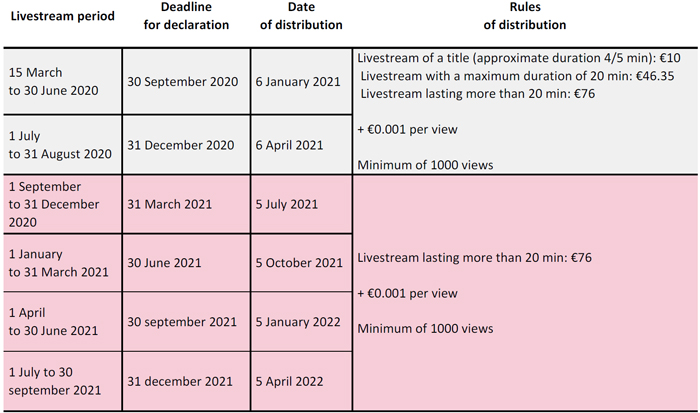 For example, if you performed a 20-minute livestream that has been viewed 10,000 times, the amount allocated is €76 plus €10 (10,000 x 0.001) in supplementary distribution, making a total of €86.
The amounts are shared between all rights holders with regard to their respective share in the works of the Sacem repertoire that are performed.
A minimum of 1000 views is required in order to benefit from this distribution.
These amounts are allocated on a gross basis (i.e. before deduction of professional fees and social security contributions, which amount to 10%).
If your livestream is broadcast on several platforms, the minimum amount will be paid once and the number of views will be checked and aggregated by Sacem in order to calculate the supplementary distribution.
Paid livestreams will be subject to specific collection and distribution rules which will be specified at a later date.
Need Any Help?
Please see the questions and answers and the dedicated tutorial
Contact us on +33 (1) 47 15 47 15 or by email at societaires@sacem.fr
Published May 11 2021